Hong Kong
Pre Wedding Photography
Our Hong Kong pre wedding photographer service is one of the most popular services we offer. We offer wonderful pre wedding photography
services throughout the world in a variety of amazing locations however we absolutely love capturing couples moments in Hong Kong.
This magnificent city has been our home for decades and has welcomed us with open arms from all our international adventures. This feeling
of belonging motivates us to create exceptional pre-wedding photographs of our dear couples with our city shining in the background.
Our team members are hand-picked photography specialists, able to design, create, and deliver the most amazing shoots. With our creative and
state-of-the-art style, we can promise stunning imagery, overflowing with emotion and beauty.
We are personal in our approach and love to know all about our couples. Knowing your love story means knowing the perfect way to present and
capture the true essence of your love. Moreover, working together we will find an ideal style, encompassing all your wishes and requirements.
As a result, we aim to make our couples laugh and have fun during your pre wedding shoot. Happy couples make for emotive photographs filled with pure joy,
and this experience is what we want to give to every one of our couples.
Enquire
Hong Kong Photoshoot Promotions
There is nothing better than finding the perfect location at the perfect time of the year for creating magnificent pre wedding photography.
Furthermore, our studio takes it one step further by offering promotions of the most popular photoshoots whether that's traveling overseas or an indoor studio session.
Pre Wedding Photographer Services
Whether you desire a stunning pre wedding shoot, proposal shoot, or perhaps an engagement shoot, we will expertly adapt our photography
services to your every occasion. We create amazing memories in any of the outdoor locations and our indoor studio in Hong Kong downtown.
Pre Wedding Studio
Outdoor Pre Wedding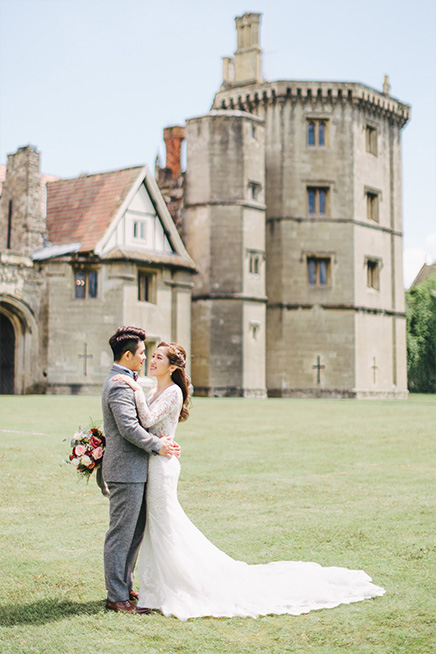 Overseas
Our pre wedding photoshoot was full of fun and laughter. We loved playing around, capturing real photos of ourselves. Amazing service. Ole & Cassie
Featured Hong Kong Pre Weddings
Pre Weddings, Engagements & Couple Shoots in HK
We have one simple goal, a pre wedding photoshoot that reflects your personalities, but most of all, your wishes. Over the years, several couples challenged us with their amazing ideas and requests. As a result, this encouraged us to raise our bar for pre-wedding photography. No matter what dreams of pre wedding perfection you have, we are here to accommodate you every wish and deliver the most amazing pre wedding photoshoot.
In a desire to share those truly magical moments and photographs with all our couples, we present our selection of featured couples.
---
Sylvia and Henley
The first time we met Sylvia and Henley, it was undeniable how gentle they both are, and we knew we would have a romantic and beautiful pre-wedding photoshoot with them.
We suggested The Peak location for the photoshoot as we felt it could best suit the style and feelings. It was great to know that they loved this location.
It's always best to get a few early morning photos allowing you to capture some of the most fantastic sunrise photographs and use that perfect lighting to our advantage.
View Pre Wedding
Angela and John
Angela and John are one of those couples that all others want to be. Gorgeous, fun, and stylish, they mesmerized us at our first meeting.
We wanted to give them a powerful but at the same time romantic location to go with their personalities, and for that reason, we chose the gorgeous rocky caves of Cape D'Aguilar beachfront.
Cape D'Aguilar is one of HK's most sought after locations and delivers photos that our couples absolutely love.
View Pre Wedding
---
Chen and Mei
We are sure that anyone that meets Chen and Mei instantly wants to be their friend. When we first met this incredibly funny and charismatic couple, our meeting lasted a bit longer than it should. But below that charisma, there is romance and caring, so we recommended Shek-O for their pre wedding photoshoot, and it was perfect.
Chen and Mei were smiling all the long, and we really got to capture the humor they nurture in their relationship. Shek-O gave some really outstanding pre-wedding photographs.
As well as Shek O we got to explore a few of the more central locations. Hong Kong is so well versed in many different styles of locations making it perfect for pre wedding photo sessions.
Stephanie and Justin
We enjoyed our pre-wedding photoshoot with Stephanie and Justin, as they managed, very successfully, to run the session as if we were not there.
They are the kindest couple we ever have seen and loved every minute capturing their emotions.
For Stephanie and Justin, we had a combination of outdoor Victoria harbor photoshoot, plus we got to play with all the amazing themes in our pre-wedding studio.
View Pre Wedding
Mesmerizing. The better experience we could have ever hope for and the photos they delivered are beyond expectations. Kayley & Jeff
Photo Packages & Prices
Rates for local Hong Kong pre wedding and studio shoots
Our only aim is to be able to fulfill our couples' every need and desire. By creating custom packages and offering promotions in many different locations, including Hong Kong, we ensure our couples find the perfect photo package within their budget. Furthermore, our packages are created to make sure the location and the season complement each other perfectly.
Take a look at our Hong Kong pre wedding photography packages below. You can find out more information about our HK prices by getting in touch via WhatsApp or Messenger.
Contact Us
---
Half Day
Outdoor, Studio or Combo
3.5 Hours Photo Coverage

20 High Tuned Edited Images

All Original Photos

Hair + MUA Styling Before

Storybook Photo Album
Enquire Now
Full Day
Outdoor, Studio or Combo
10 Hours Photo Coverage

40 High Tuned Edited Images

All Original Photos

Hair + MUA Styling

Premium Printed Canvas

Storybook Photo Album

2-3 Locations (Outdoor)
Enquire Now
Studio
Indoor Studio
2 Hours Photo Coverage

20 High Tuned Edited Images

Studio Location Close to MTR

All Original Photos

Hair + MUA Styling

Storybook Photo Album
Enquire Now
I can only describe our couple photos in one word. Mesmeric. They are pure emotion and highlight everything me and Candy are about. Timo & Candy
Hong Kong Pre Wedding Photography Reviews
Kind words and thoughts from happy HK couples
The satisfaction of our couples is our greatest pride. We measure our work by the amount of fun you have during the pre-wedding shoot, but also by the happiness you radiate when you receive your photographs.
We are grateful to all couples that choose to share experiences and leave a review for our services.
For a selection of reviews from some of our favorite couples please get in touch. Reviews are a true testament to the quality of our service and creativity in both our style and approach.
Request Reviews
Karly and Joe
"Sensational. The photos that the team captured during our pre wedding are better than I can ever imagine.
We got to explore so many of Hong Kong's most perfect locations including The Peak and Shek O. It was so good to get such a variation in our photo gallery, but we are especially lucky that the team knew many of Hong Kong's hidden gems."
Karen and Ali
"Choosing a pre wedding photographer was one of the hardest decisions we had to make when planning our pre wedding shoot. When we discovered This Love Studio we just knew straight away they these were the best photographers we had seen.
We spent many hours browsing their portfolio before getting in touch and booking for our engagement shoot. We would highly recommend choosing This Love Studio for your pre wedding in HK."
Susanna and Rich
"When booking your pre wedding photographer in Hong Kong, we can definitely recommend everyone at This Love. From start to finish they delivered impeccable service, offering advice and guidance at every turn."
"We went for the Gold package meaning we also got to include a pre-wedding studio, wedding gown, groom's suit as well as sourcing wedding Hair and MUA. Everything was brilliant."
Fantastic, professional, creative, just some of the words I would use to describe the This Love Studio team. Recommend to everyone. Tory & Johnson
Hong Kong Wedding Photoshoot Portfolio
Engagement & Pre Wedding Photos of HK Couples
We are passionate about what we do, the photographs of our lovely couples mean a lot to us.
They are a never-fading proof of our expertise, professionalism, and above all, the love we put into our work.
Take a look at our slideshow portfolio to see why we are known as the best award-winning
professional pre-wedding photographers in Hong Kong.
Play Slideshow ►
Hong Kong – The Perfect Pre Wedding Destination
For every couple and every style. From Beaches to CityScapes.
From incredible geometrical architecture like Quarry Bay Montane Mansion to the untouched nature of the Sai Kung area, Hong Kong has it all so much more.
You can favor modern or traditional, Hong Kong fits all. Furthermore, it will give you dozens of perfect spots to match both your personality and pre wedding style.
If you wish to have a plethora of choices and ensure that no matter where the camera is pointing you'll be in the perfect shot, then HK is the perfect place. The vibe of the city plus that unique urban feel translates perfectly onto every photo giving your pictures that most unique dash of flair.
---
Best Time of Year for Your Pre Wedding Shoot
For those gorgeous sunlit photographs make sure to book your pre wedding shoot somewhere between October and early December. You will be blessed with the gift of sunny, but crisp and pleasant weather. Perfect for pre wedding photography.
Furthermore, to really give your photos all the splendor Hong Kong can offer, Spring Festival and Lantern Festival throughout January and February will pose as the perfect background on which you will paint your love story.
Reasons to Choose Hong Kong
Perfect for every couple, Hong Kong is filled with various style locales. Besides the sophisticated grandeur of this city, there are also many hidden nooks and crannies of older, traditional architecture, still exuding the same vibe as it did centuries ago.
Whether you are a modern and fashionable couple or romantic and nature-loving, so many parts of HK will dazzle you allowing you the most beautiful backdrop for the perfect Hong Kong pre-wedding photography.
Find Out More
Our engagement photoshoot was really enjoyable. We traveled through the various locations but were most impressed by the beaches! Great fun! Susan & Joli
Our Pre Wedding Studio
From couple shoots to themed pre wedding shoots, visit our studio
Being in the center of the Hong Kong hubbub is the main source of all our energy. The melodic buzzing of the city and its people bring a spring to our steps, and we couldn't be happier about our location. Available to all, we have placed our studio in the most perfect location in Hong Kong, ensuring we are never too far away from Hong Kong's most popular pre wedding & engagement spots.