Lake Como
Pre Wedding Photography
Lake Como pre wedding photography is one of the world's most popular purchases, especially in terms of pre wedding locations.
One of the world's most beautiful lakes, Lake Como, stands as an oasis of peace surrounded by charmingly colored villages and gorgeous
beaches. The lake itself is of a mesmerizing blue shade that really pops out in all your photographs. As a result, this creates the most
magnificent of settings.
Besides having your pre wedding shoot captured between the colorful buildings of Bellagio village, we can also take you on a
boat ride to remember forever while capturing some of the best photos surrounded by the waves of Lake Como.
This is a truly dreamy location with picturesque gardens and lakeshore restaurants. Our team of experienced professionals knows the
perfect time for your pre-wedding shoot, knowing the best time to bypass the many tourists admiring this location.
As always, we save the best for last, taking you to experience paradise in Villa del Balbianello, immortalizing your
images among the wisteria in bloom.
Enquire
Photography Promo & Discounts for Lake Como
Perpetuate your love on the shores of Lake Como while the summer sun reflects in the water.
Let us capture your romance in one of the many colorful villages surrounding the lake. Allow our photographic
ability to feature this amazing dance of light and colors in your pre-wedding photographs.
Take a look at our Lake Como pre wedding photography promotions for more information.
Pre Wedding Services in Lake Como
Our outdoor photoshoot services are not just limited to land. Some of the most stunning images are captured while
sailing the lake, giving you a sense of adventure and excitement, all captured with unparalleled expertise. A Lake Como pre wedding photoshoot will
give you fun and vivid photographs of your love.
Outdoor Pre Wedding
Proposal Shoots
Engagement Shoots
Como was stunning. The turquoise blue lake and colorful Mediterranean buildings created the most beautiful of pre wedding backdrops. David & Hoi
Featured Lake Como Pre Weddings
Happy Couples Enjoying Everything That Lake Como Offers
Many of our couples are simply adamant about having their outdoor photoshoot at Lake Como. With glistening water and picturesque European villages, scattered across the shore, it's easy to see why.
The natural beauty of the water, earth, and sky above, combined with the many man-made colorful houses, everything is equally impressive and in perfect balance.
Our featured couples are like the final piece in the puzzle of this scenery, almost like a fifth element without disrupting the delicate balance.
Capturing every couple was a dreamy experience for us. Take a look at our featured couples selection below.
---
Natalie and Darren
Natalie and Darren were the loveliest of couples from HK. Their first vacation together was in Lake Como meaning they already had an emotional connection to this stunning pre-wedding destination.
Nat and Darren told us that they knew what they had would last forever. Como just made them fall in love with the location even more. We decided to give them everything that Lake Como has to offer, from the lovely streets of Bellagio to a boat ride with epic mountains rising in the distance.
The entire day was magnificent, filled with laughter and happiness from times gone by while also creating new special memories in a very favorite place.
View Pre Wedding
When the team recommended Lake Como, we got to see their photos and knew that the lake would be perfect for us. Thanks team. Cally & Han
Lake Como Pre Wedding Packages
Prices & Rates for Photoshoots in Lake Como
Lake Como brings many great photoshoot opportunities, and, as such, is a trendy location for all couples. Due to Lake Como's high demand, we try to make this location as affordable as possible to all couples.
With our great packages, you will get a perfectly organized photoshoot with photos at the most popular landmarks as well as the hidden gems only we know about. Our photographers have the skill set to capture the world's most popular pre wedding locations but furthermore, intimate spots that only we know about.
Get In Touch
From beautiful intimate moments to breathtaking Como panoramics, This Love Studio delivered sensational pre wedding photos. Angus & Sydney
Lake Como Pre Wedding Photographer Reviews
Testimonials from couples that chose Lake Como
Besides being incredibly romantic, the landscape surrounding Lake Como gives adventurous couples so many great possibilities to perpetuate their love story.
Whether you want to walk barefoot in the shallows of the lake or hike way up to the vibrant picturesque village, we will follow you capturing all the laughs, hidden looks, and special moments along the way.
Our goal is to creatively and honestly present your story in Lake Como. By capturing your mutual gravitation, our photography will inspire you just as the location itself inspires us.
Read all about the Lake Como pre wedding photoshoots in the reviews of our past couples.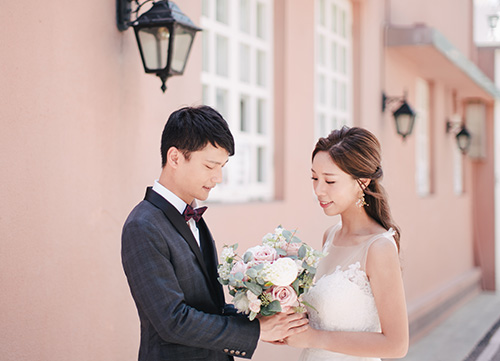 Amaya and Leonardo
"This Love Studio helped me stage the best proposal ever! I planned a Lake Como trip intending to propose to Amaya but also wanted to have some kind of a memento of the day. I found out that a lot of people do engagement photographs and I wondered how do they manage to keep it a surprise. This Love Studio answered so many of my questions and was my accomplice all the way to Lake Como! Our engagement photographs were stunning and I am so glad we have these moments to show to our children. Our photographer was so professional and friendly, but after seeing the photographs it was clear that he is extremely talented. Highly recommend This Love Studio to all couples out there."
Eliza and Bryson
"We have been searching for a pre-wedding photographer that will come with us to Lake Como and we could tell This Love Studio has the best portfolio and offers out of all! The initial arrangements and booking were simple, with no fuss or confusion. Everything was done via email, and the instructions were very clear. We met in Bellagio and right away took some pretty amazing photographs. From the start communication was amazing, and we loved how relaxed and friendly everything was. We took a boat ride and went as far as leaning out of the boat to get that perfect picture. The final result was spectacular and we are amazed at the quality of our pictures. We would highly recommend This Love Studio for every couple looking for a top-notch photography service!"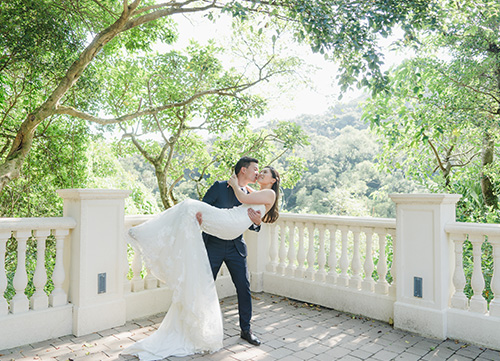 Brianna and Axel
"These guys are the best! We planned our Lake Como pre-wedding photoshoot and were so lucky to be able to book them. The organization and the talent they have are unparalleled, we have never met people more dedicated to providing amazing photography! Our photos were so beautiful and our friends and family were blown away. We already had a few calls from our acquaintances asking about This Love Studio and we were thrilled to recommend them! Hiring them for our destination pre-wedding was worth every dime and we would do it all over again! Thank you This Love Studio for giving us incredible memories and an amazing experience!"
Andrea and Parker
"The This Love Studio photographer that followed us to our Lake Como pre-wedding shoot was such an amazing guy! He was a pleasure to work with and he has such a great vision and eye for details. He stopped a few times to explain to us what he wants to achieve with us posing a certain way and I was amazed about the creativity of his mind and the ideas he comes up with. This made me trust him implicitly with our photographs and just go with the flow for the rest of the day. My wife and I are extremely happy about our trip to Lake Como and the memories we captured there, our photographs are incredible. Highly recommend!"
If you are looking for your pre wedding photographer you should seriously consider This Love Studio. Creative perfection. Natalie & Sebastian
The Best Pre Wedding Spots in Lake Como
Hidden Gems, Curious Creations. The Best Locations in Como
Among all the Dolce Vita locations of Italy, Lake Como will give you a sense of adventure creating a pre-wedding, engagement, or lifestyle shoot overflowing with gorgeous backdrops.
Besides all the beauty of the lake itself and, of course, the mountains surrounding it, there are so many superb and vibrant towns located around the lake. Traveling between, you will find some of the oldest and most elegant villas in the world, giving the incredible spectacle of azaleas and rhododendrons.
Lake Como is a perfect destination for couples who want a little bit of everything for their special memories. A beautifully stunning lake, charming town, the garden of Eden, and a bit of that Mountain freshness provides the perfect gift to your most precious photographs.
---
Villa del Balbianello
Villa del Balbianello probably looks quite familiar to most people. It is one of Italy's most iconic villas and is often most featured in some of the greatest blockbusters of all time.
Owned by Italy's National Trust, Villa del Balbianello has a fascinating history and amazing architecture, guaranteed to look fantastic in your pre wedding photographs.
The thing that makes this pre-wedding location so special is the wisteria that can be found on every corner of the estate, giving it a romantic and gentile look while in full bloom.
Romantic Boat Ride
This is where the excitement of Lake Como begins.
A boat ride on one of Italy's icon wooden speed boats is something you cannot miss. Besides giving your amazing backdrops of all unreachable villas and manors on the shore of Lake Como, it will also provide stunning views of the mountains, picturesque hills, and incredible lighting as the sun reflects in the water.
The beautifully designed boats to be rented to give your love story a luxurious note while capturing your love gliding across this beautiful lake.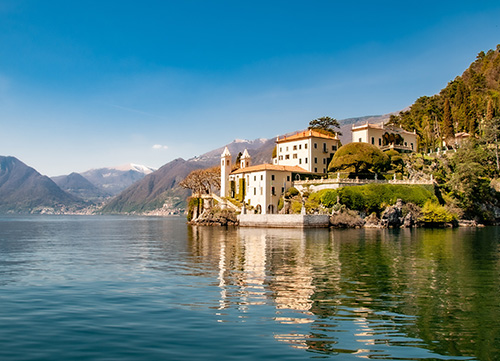 ---
Bellagio
A true pearl of Lake Como, Bellagio is the most sought-after destination in Lake Como. Furthermore, there are many good reasons for this being so.
Walking through this picturesque town, you will be amazed by the vibrancy of the surrounding buildings alongside the stunning details adorning every corner of its streets.
No matter whether you focus your attention on the lake or climb to the highest point of the village, you will be surrounded by the kind of beauty to make your pre-wedding album a gallery of perfection.
Varenna
Yet another amazing village of Lake Como. Filled with many charming paths, cobbled streets, and beautiful buildings all making a great pre wedding and engagement photoshoot spot.
The magnificent shore is always just a few steps away, perfect for those gorgeous beach photographs. You can also find many amazing stone balconies and terraces scattered across the village. As a result, Varenna will give you the most magnificent view of the lake and surrounding mountains.
Gardens of Villa Melzi
Stretching along the lakeshore, blending perfectly with the hills of Bellagio, these gardens are heaven on earth.
There is a multitude of colors and gorgeous flowers, planted with aforethought but looking spontaneous and natural. As a result, this provides amazing photoshoot opportunities for your pre wedding photography.
A combination of the villa, chapel, and the orange tree house will give you an amazing backdrop for creating idyllic memories.
Orrido di Bellano
This magnificent waterfall is one of the best photoshoot destinations in the world, nevermind Lake Como.
The best thing about Bellano is that it is reachable via a walkway attached to the rocky walls. It even has its own lighting system.
A local legend also suggests that a warrior, Tiano, was buried in the depths of this waterfall along with his precious treasure. It seems like the biggest treasure in this magnificent scene is one that makes for a perfect pre-wedding photoshoot, encompassing your love story.
The Wayfarers Path (Sentiero del Viandante)
Part of the trail between Varenna and Bellano is a gorgeous section of this ancient trade route that connects Milan and Switzerland. This particular section has some of the best views of the lake, swerving along the cliffside, through chestnut woods and cultivated slopes. It is also a great photoshoot spot as it offers amazing backdrops all year round.
Lake Como Photoshoot Slideshow
Favorite moments and photos from Lake Como Pre Weddings
Take a look at our impressive Lake Como pre wedding portfolio and witness the fun all our couples
had on their Lake Como pre wedding photoshoot.
With our couples gliding across this magnificent lake or hiking into the gorgeous surrounding hills, every scene
from our portfolio will make you want to capture your love at this stunning location.
Play Slideshow ►
Lake Como – An Italian Pre Wedding Classic
Crystal Clear Water & Colored Buildings. Italy's favorite Pre Wedding Destination
Choosing Lake Como for a pre wedding or engagement photoshoot could be one of the best decisions to make as a couple.
A dazzling lake surrounded by epic hills with the most charming and colorful villages, Lake Como seems like it came straight out of a painting.
With many luxurious villas to feature in your pre wedding photography, this amazing, architecturally diverse region will make you feel regal while adding sophistication to your love story.
Furthermore, when you delve deeper into the narrow pathways surrounding Lake Como, you can find an abundance of fantastic spots to make your photo album, a work of art.
---
When is the best time of year for a Lake Como photoshoot?
With annual temperatures higher than anywhere in the area, Lake Como has a curious climate, but perfect for a pre wedding photoshoot for most of the year.
You can create your memories anytime between March and November, and enjoy perfect weather while you do so.
Our recommendation is to consider July and August carefully, as this is the peak time for tourists and the temperatures are much higher.
What makes Como so special?
Besides amazing nature and the complex beauty of Lake Como, there is a certain pedigree that comes with this location.
Lake Como was a location of choice for some of the most stylish movies of all time. It really does have a cinematic feeling wherever you turn.
From Star Wars to James Bond, this location has always been recognized for the sheer luxury and richness it exudes. An oasis for the bourgeoisie tucked in within the mountains of Italy.
For those couples who wish to experience and celebrate their love in a location reserved for the best, Lake Como will give you the very best panoramas in the world.
View Our Calendar
We really want to say thank you to the team for capturing so many perfect memories while we were in Lake Como. Lily & Monson