8 Breathtakingly, Beautiful Places to Propose in Singapore
Popping the question is a massive deal. You want everything to be perfect to show how much you truly mean what you're saying. The rings perfect, the timings right but you can't just get down on one knee anywhere. For it to be an unforgettable proposal. Where you decide to ask is very important. With that in mind, we've compiled a list of where to propose in Singapore. These locations all ooze romance and will have your partner swept off their feet.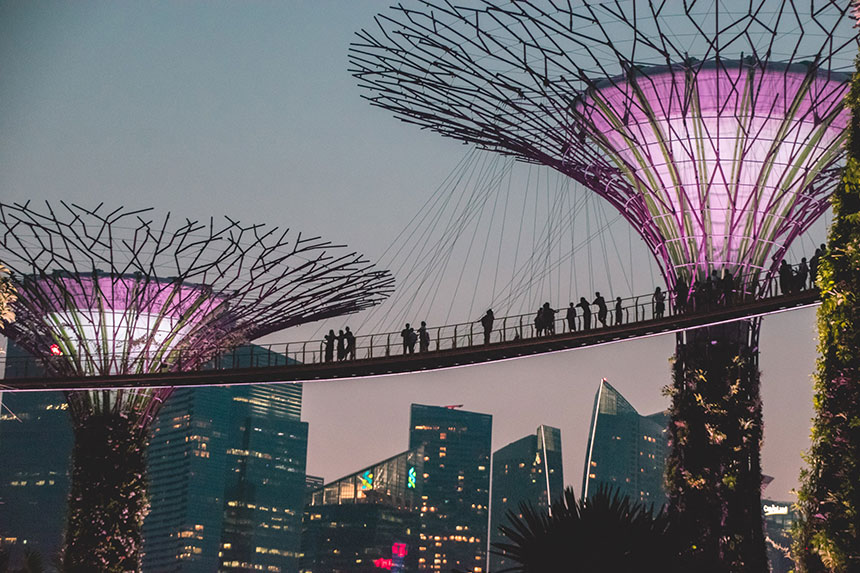 S.E.A. Aquarium
Aquariums are pure magic. They bring us all back to that child-like wonder that mostly disappears with adult life. And they are a wonderful place to share with your partner. Both enjoying those same feelings of awe and amazement. Sharing a really cool experience is a perfect way to really feel the bond between you. Therefore, making it a great spot for that all-important moment.
Once you've taken in the magic. Get ready with the ring. The feeling of closeness between you and the incredible surroundings will truly perfect this moment. Check out S.E.A for an alternative proposal location.
Cable Car Sky Dining
If you or your partner have vertigo just move on from this one. But for anyone still here. This could be a perfect way to get some very private time with your fiance-to-be. Sat in the clouds having a lovely meal. Sounds like something out of a fairytale.
In this situation, you're actually just in a cable car (sorry to ruin the magic). But this doesn't mean the experience is any less mesmerizing. Seeing all of Singapore from a birds-eye view. And sharing a delicious bite to eat. We don't need to explain why this place just screams romance. And no need to worry about the awkwardness of all the other diners cheering after you pop the question. Any other guests will be far away in their own little pod. Allowing you guys to properly enjoy the very emotional moment in peace.
Yunomori Japanese Onsen & Spa
Everyone needs a bit of pampering now and again. Time to unwind, relax, and let go of all that tension. Treat your partner, and yourself, to a day of exactly that.
Yunomori is a traditional Japanese Spa that takes you away from city life into a world of calm and tranquillity. And what better excuse to go all out on a spa day than your proposal. Plus, any pre-proposal nerves you may have will be massaged away. Leaving you chilled and ready to pop the question.
JW Marriott Hotel
Maybe your partner is more of the swanky hotel type. No problem. The JW Marriott Hotel is one of the fanciest hotels out there.
The entire building is jaw-dropping. Inside and out. There's impressive, towering architecture on the outside. And inside, each room is beautifully decorated with bold, modern prints and patterns. Large art pieces. And king-size, luxurious beds.
The premier room includes breathtaking, scenic views of the city. As well as the cushiest furnishings imaginable. Even the bathroom is impressive. With a gigantic, marble bathtub that is every bath lover's dream come true. Tip for anyone dating said, bath lover. Run a hot bath. Fill with some expensive bubble baths and line with candles. Maybe play some of their favorite music. And get ready to slip that ring on their finger. We couldn't imagine a more romantic setup for a proposal.
Raffles Marina Lighthouse
Traditional lighthouses are gorgeous sights to behold. Which also makes them a beautiful backdrop to your proposal.
Get there at sunset to create the perfect romantic moment. Still waters surround the pier and it is a generally quiet location. Making Marina Lighthouse a peaceful place for you to pop the question. Don't forget to get some gorgeous photos of the moment. Especially if you've got a photographer booked for the occasion. This would be the perfect place to get a silhouetted image of you down on one knee in front of your partner.
Koma
A romantic meal for two is a standard and effective proposal set up for any foodie couple.
Treat yourself and your partner to a luxurious, Japanese meal. Koma has stunning food, a long menu, and some of the most impressive decor you've seen. There are huge, dangling lanterns. Bold gold and black patterns on the ceiling. Crazy statues. And to top it all of a bright orange footbridge. This is all inside the restaurant. Truly a feast for your eyes as well as your stomachs. Although, make sure they're finished taking in all the surroundings before you bring out the ring to avoid missing out on their surprised face.
The Summerhouse
A picnic in the park is already romantic. Now picture getting there at noon and watching the sun slowly set with your partner. And then continuing to dine whilst you're under the stars. That's what the Summerhouse is.
Apart from the fact that you can do all that in a comfy (and air-conditioned) dome all to yourselves. This is akin to glamping. With the domes being luxurious permanent tent-like structures. They're placed inside a beautiful, green garden that's lit up at night with romantic string lights and by the stars. But they won't be the only thing shining once you bring out the ring and ask the all-important question.
Changi Boardwalk
A lot of us love going on a scenic walk, especially at the moment. So this gorgeous, sea-side path is the perfect spot for any avid walkers or casual wanderers to get away from the hustle and bustle of the city.
Hold hands as you admire the stunning view. And as you breathe in the cool, coastal air. This is a 2.2km path that can be entered from various points so you have as much (or as little) walking to do as you please.
Also great if you need time to get your courage up for the special moment. But once you're ready. Stop at a particularly capturing spot on the walk and turn to face your partner. You'll have a gorgeous backdrop for them to say yes in front of.
Find out more about Changi Boardwalk.
So there you have it, a selection of some of the best proposal spots in Singapore. And there's something here for everyone. Now all you've got to do is ask!
Category
Proposals