Singapore
Pre Wedding Photography
There are so many wonders hidden in Singapore and people around the world have only just begun discovering them. We are presenting you the
opportunity of creating mesmerizing memories of your pre-wedding, engagement of lifestyle photoshoot in this hidden gem of the world. Like a true
melting pot of cultures, Singapore has a plethora of great backdrops to feature in your photographs.
As always, our approach to capturing your memories is a candid and natural type of photography, depicting you in a spontaneous way unique to you as a
couple. We want to show what makes your love special, what makes you different from all other couples and Singapore is one of the best places to do
High-quality photography service is our trademark, nurtured to give you mementos that will last a lifetime. But what makes us the best choice
for you is the way we can capture all your gentle emotions and give you timeless photographs reminding you of your happiness and love.
Book our Singapore pre wedding photography service and let's explore this dream destination together.
Enquire
Our Singapore pre wedding was mesmeric. The hustle and bustle of such a dynamic city was perfectly captured by This Love Studio. Mark & Karen
Singapore Photographer Options
In Singapore, we will happily provide to any couples the best outdoor pre-wedding, engagement, or lifestyle photoshoot service. Besides
giving you plenty of tips and advice about the location and photoshoot itself, we will consult with you on every idea we have that
can suit both your personalities and style as a couple.
But above all, we are going to listen to all your wishes and visions, passionate about giving you that photograph you imagined in your head.
Giving us a chance to capture this, the way you see your love is the highest privilege to us and we are adamant in honoring your trust.
Pre Wedding Photos
Lifestyle Shoots
Engagement Photos
Thank you with my dearest sincerity to the team for taking photos that we could never have dreamed of. World's Best. Paul & Suz
Rates & Collections for Singapore Pre Weddings
Our popular prices for Singapore Shoots
Created to fit any couples' desires and budget, our packages present have various shapes and sizes. Each one will give you precisely what you want, never less and never more. But regardless of the size of your budget, the quality of your pre-wedding or engagement photographs will stay the same and justify our reputation every step of the way.
Depicting the wonders of couples' love amongst beautiful scenery is our goal and our gift to you, and a source of our passion and dedication.
Get In Touch
Absolutely fantastic. Our photos mean so much to us, we cannot stop looking at them and sharing them online. Thank you for your support. Karman & Fi
Reviews from Singapore Couples
Kind words that past couples have left us with
The kind words we received are the ultimate gift our lovely couples could've bestowed to us. We cherish them as much as they cherish their photographs and we are always proud to present them to our future couples.
Your reviews are a motivational force behind anything we do and create and we are honored to be the cause of your happiness. You can read some of our favorite couple testimonials below and see why were are the choice of so many.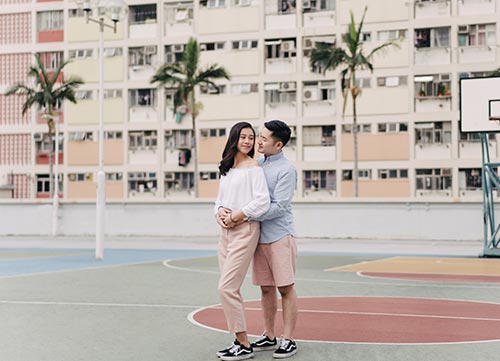 Everleigh and David
"Our Singapore pre-wedding was such an incredible experience thanks to This Love Studio. They really gave their best effort to provide us with the best photography ever. The photographer was so nice and guided us through many spots and gave us so many great tips. We were really comfortable working with him. And the pictures are a joy to look at, there are beautifully natural and you can see every emotion on them! Good job, we highly recommend This Love Studio to all couples out there!"
Mya and Christian
"Thank you This Love Studio for incredible photographs! Having you take our pre-wedding pictures was such an amazing thing, the day went by so quickly and in a good atmosphere. Our photographer deserves every praise for his talent and the passion he showed for his work. We are ecstatic truly and wish we can do it all over again. If you hire This Love Studio you will never regret it!"
Rachel and Will
"Working with This Love Studio was a real pleasure. They were so nice and easy to talk to from the beginning and they gave us so many great tips. Our engagement photographs came out beautifully and all thanks to the amazing photographer who took about million pictures of us. He was persistent in taking that perfect shot but kept us laughing throughout the day. Such an amazing day it was! Thank you for all the stunning memories and gorgeous pictures."
Summer and Edward
"The photos are INCREDIBLE! You are truly an artist of photography and I am beyond happy about how our pre-wedding pictures turned out. The day was a total success, our photographer was amazing and so funny! This Love Studio gave us so many guidelines right from the start so we can know what to expect and we were comfortable ever before our photo shoot. Amazing photography and incredible team! Thank you from the bottom of my heart for these mementos."
Alana and Charles
"This Love Studio showed us how real professionals conduct their business. Their booking emails were so polite and filled with all the details we were wondering about. The follow-up was much appreciated and we learned so much about what we can expect in Singapore. On the day of our pre-wedding photoshoot, we were a bit nervous but our photographer made us relax after only 5 minutes. He was amazing! Such a nice and friendly guy, but also so professional! The pictures made us emotional and we couldn't be happier! They are gorgeous."
Brook and Bobby
"Hello, This Love Studio. Just wanted to tell you Thank You for all the hard work you've put into our photographs. We were a bit aggressive with our ideas, but our photographer took it all in stride and created photographs that were everything we ever wanted and so much more. There wasn't a second we felt uncomfortable, and for most of the day we were relaxed and the conversation was flowing. We are so happy about our photographs, we love them! Thank you once again, you can bet we will recommend you to everyone we know."
Epic photography by the globes number uno wedding photographers. Book this love studio for your pre wedding shoot. It's a must. Raphael & Kitty
Best Pre Wedding Locations in Singapore
Take a walk through Singapore's most famous hotspots
Singapore is a peculiar city with history and beauty, slowly emerging on the world's map as a visual oasis. The recent radical transformation made it into one of the most modern cities of today, with extraordinary modern architecture and fast trains, creating a futuristic hub featuring the most eye-catching views and scenes.
Green skyscrapers are a new "it" in Singapore and this is where you'll find rooftop gardens, treetop jungle bridges, and wildlife galore, in perfect harmony with state-of-the-art designed hotels and various other buildings adorning this city.
---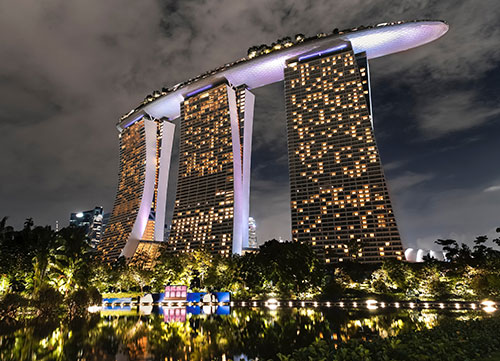 Marina Bay Sands
As one of the most iconic places in Singapore, the Marina Bay Sands will give you everything you need for a perfect modern pre-wedding backdrop. The greenery, modern architecture, and a gleaming lake will be the perfect addition to your photographs, with you walking on the path overlooking this magnificent spot.
Gardens by the Bay
Taking a lesson from the movie Avatar, Singapore created one of the most visually appealing gardens in the world. The Supertrees shining in vibrant colors are a unique choice for a pre-wedding or engagement backdrop. At night, when the trees are alight, your pictures gain a spectacular tone. Witnessing the Garden Rapsody while sitting below the trees and listening to the music, with millions of lights dancing above you is the best experience you can have in Singapore.
---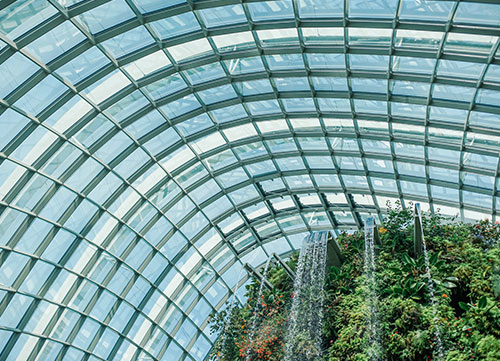 Cloud Forest
Located at Gardens by the Bay, this waterfall in Singapore will take your breath away. A man-made wonder, mysterious-looking forest representing the tallest indoor waterfall will be the perfect spot for amazing pre-wedding photographs. You can also create wonderful memories on the waterfall as it allows you to take a walk throughout the treetops.
Lily Pond View Point
Another amazing feature of Gardens by the Bay is the gorgeous Lily Pond. Justifying its name, it is filled with lilies and surrounded by the most beautiful treetops making you feel like you are in another world. But there is a hidden treasure in this location, a giant rock protruding from the shallows giving a view of the Supertrees and Marina Bay Sands. One step into the shallows will lead you to the most stunning backdrop in Singapore.
Peranakan Houses
Leaving the greenery behind, we are greeted by the intricate design and pastel colors of Peranakan houses. The whole street is lined with houses showing a similar theme of gentle colors and plenty of details, There is no better thing than giving your pre-wedding or engagement photographs a gentle palette of colors, creating a perfect contrast and making you and your adoration stand out gloriously.
Rochor Center
The government of Singapore made sure their citizens have proper housing in the shape of HDB housing, but their attentiveness and care is not the best thing about it. The buildings are very often built in a similar style and bursting in colors of the most vibrant shades. The overflowing ombre paintwork of the facade gives your photographs a clean but colorful look and a mood-lifting tone.
Redhill MRT Station
It may be strange to see the underground metro station as a great pre-wedding photography location, but this station has one amazing characteristic. It is entirely pink. Everything from lights to walls, escalators, and the floor is in different shades of pink creating the most unique backdrop you could have. The clean lines and shapes of the station further amplify the color and make this spot even more visually appealing.
Singapore Botanic Gardens
Over 160, this is the only tropical garden on the UNESCO list. Spanning 203 acres it gives precisely 203 acres of the most magical, incredible, and gorgeous natural backdrops you could find in this part of the world. Your pre-wedding photographs will be overflowing with incredible images of your love story within the various hues of green, making you look fresh and adventurous at the same time.
We admired This Love Studio for a long time before confirming for our pre-wedding. Their photos are delightful, fun, and also exquisite. Flex & Frederica
Singapore, The Pre Wedding city that has everything
Overview of Singapore and Our Pre Wedding Experience
It is incredibly difficult to show you just how stunning Singapore is and all the great spots it has. The whole city is planned to a T, every corner perfectly designed to represent a piece of art. Every building, every bench have been strategically placed to give this city a flawless look. And among all the architecture, there is greenery and life, drowning the city in gorgeous flora and creating a perfect composition of modern and natural. And among all the splendor, Singapore has nurtured their cuisine which they are famous for and gave the city a mouthwatering aroma flowing through the streets.
---
When to book a Singapore pre wedding photoshoot?
Weather in Singapore is equally unique as the city itself. Located in the part of the world often showered with a torrent of rain lasting for days, Singapore weather can be split into dry and a wet season. Avoiding the wet season, the dry season that lasts from February till August would be the perfect time of year to visit this part of the world. Experiencing Spring in Singapore will give you a plethora of amazing flower-filled backdrops thanks to the gorgeous parks and botanical gardens Singapore is known for.
Why do couples pick Singapore?
Singapore is an ideal place for modern couples who love the clean style in perfect symbiosis with nature. The ones who have a fresh disposition and new-age sense about them will fall in love with all the aspects of the city and enjoy capturing their memories in such a futuristic place. Young in both mind and heart, couples who preferred natural elegance can make their photography dreams come true in Singapore.
View Our Calendar
Yes Yes Yes. Our photos are magnificent. We are eternally grateful for the album we have to view forever. Magical. Ricky & Sharon